Our Weed Abatement Services...
Pacific Coast Landscape Management
offers efficient and economical Weed Abatement Management services that is tailor-made for the specific needs of Residential Developers, Commercial and Industrial properties. Our qualified staff provides safe and economical vegetation management programs utilizing state-of-the-art application methods and modern environmentally sensitive pesticides and plant growth regulators designed to meet your specific needs.
Manual & Mechanical Methods Of Weed Removal & Control
Qualified Pesticide Operators, Applicators & Advisors
Environmentally Sensitive Pesticide & Plant Growth Products
Eradicating Invasive Pests

Our Erosion Control Services...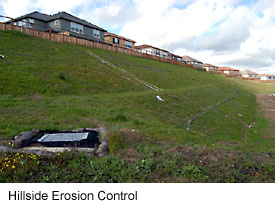 At Pacific Coast Landscape Management we provide new, innovative and efficient ways to help control Erosion and Sedimentation to protect your environment. Through experience we know what works best and is the most efficient and economical to help keep your site clean and always working properly. We offer professional installation, high quality products and comprehensive services covering all aspects of your erosion, sediment and dust control needs. For both small and large scale projects our Erosion Services include:
For Information Or Questions, Telephone:

(925) 513-2310


PO Box 757, Byron, Ca 94514
License #C27-733949

Copyright 2010 . Pacific Coast Landscape Management, Inc. . Brentwood, California 94513